PROBIOTIC
YOGURT DRINK
VANILLA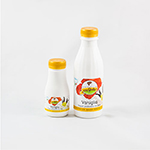 The yogurt drink is produced from high quality whole milk with the addition of live lactic acid bacteria and probiotic ferments.
Ingredients
fresh whole pasteurized milk High Quality; milk's proteins; milk enzymes (S. thermophilus, L. delbrueckii subs. bulgaricus); probiotics (L. acidophilus, L. rhamnosus, L. casei), semi puree yogurt made from Vanilla (16%).
Bottle in PET fron 500 ml
Bottle HPDE from 200 ml
24 days +1 (date of packaging)
Controlled temperature + 4 °c
Once opened, it should be consumed within 2-3 days.
energie value  (for 100 gr) 65 kcal