HIGH QUALITY PASTEURIZED
FRESH MILK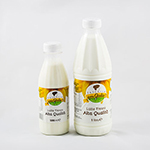 Milk from local farms authorized by the ASP, characterized by high nutritional profile and organoleptic characteristics guaranteed by the pasteurization treatment at T 72 ° C for 15 seconds.
Ingredients
High quality fresh pasteurized milk.
Bottle in PET from 1000 ml
GLASS bottle from 750 ml
Bottle in PET from 500 ml
CARBOY in PET from 5000 ml
6 days +1 (date of packaging)
Controlled temperature + 4 °C
Once opened, it should be consumed within 2-3 days.
energie value (for 100 gr)  282 kJ / 67 kcal
fats 3.8 g
carbohydrates 5.00 g
protein 3,30 g
calcium 120 mg